Description
1. ABOUT OPENMIND
OpenMind was created in 2010 to respond to the plight of children, youngsters and adults suffering from psychological disorders. Since then, it has catered to over 450 persons – adults and children alike – providing a range of therapeutic services ranging from individual one on one therapy, art therapy, yoga and tai chi therapy, hortitherapy, leading to the stabilization, healing and social rehabilitation of beneficiaries. Five years later, the impact of OpenMind's work is evident in beneficiaries' testimonies and social integration. OpenMind thus makes accessible and affordable a service that caters to individuals seeking help and support for a wide range of disorders and offers an individualized care plan adapted to each and every one. This care plan balances of the needs of each beneficiary integrating them in therapeutic workshops in art and nature therapy, wellness therapy through yoga and tai chi, nutrition and most importantly, individual psychological follow-up as well as health and care services through its Centre in Verdun.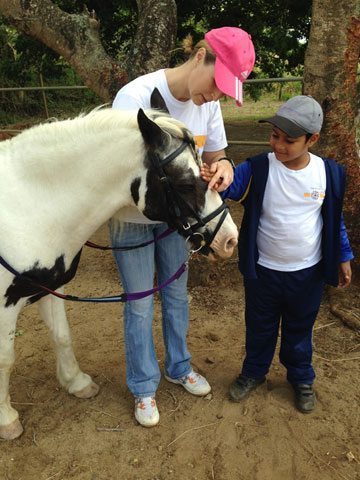 2. PROJECT BACKGROUND & JUSTIFICATION
Ecotherapy – Taking Therapy Outside – Understanding Therapeutic Practice in Outdoor Nature – is one of the prominent aspects of OpenMind work to promote the welfare of psychologically distressed and vulnerable persons through Art and Nature Therapy. OpenMind's field of activities seeks to develop the social skills, capacity development, the re-adaptation of children, young persons and adults.
"Feel better outside, Feel better inside" is the motto of the Ecotherapy Programme or Nature Therapy Programme of OpenMind Centre. It is an innovative therapeutic framework emphasising the quality of Nature as a therapeutic setting to promote wellbeing, social skills, and social inclusion of people suffering from psychological disorders. The natural environment is a live and dynamic environment that is not under the control or ownership of either the therapist or the beneficiary. It is an open and neutral space. This is what distinguishes it from an indoor setting which is usually owned by the therapist who has customised it for the purpose of attending to beneficiaries and carrying out therapy sessions.
Ecotherapy, as a non-verbal therapeutic process, is a new green agenda for mental health, following growing evidence in support of an accessible, cost-effective and natural addition to existing pharmacological treatment options. Research shows that those who are more active in natural spaces have a greater sense of wellbeing and have lower rates of depression and anxiety. Personal distress can be alleviated by developing the natural connection between the inner self and outside. Through learning to care for the natural environment, beneficiaries learn to care for and nurture themselves.
OpenMind's programme of activities bring a hope to psychologically distressed adults and children when they have little to turn to. To do this, the organization has chosen to propose a wide range of services, ranging from more conventional approaches offering talk therapy but also alternative and complimentary therapies such as art therapy or eco-therapy. The focus of the project is on the latter. Ecotherapy has been defined as "healing and growth nurtured by a health interaction with the earth". It is a broad-encompassing term, which includes horticultural therapy or hortitherapy; nature walks and hikes, outdoor activities and even zootherapy – healing with animals, which includes Equitherapy with a special focus on horses.
The psychological, physical and cognitive benefits of this type of therapy are increasingly documented. The programme provides an innovative therapeutic framework emphasising the quality of nature as a therapeutic setting to promote wellbeing, social skills, and social inclusion of people suffering from psychological disorders.
Eco-therapy and psychological services respond to an urgent need in Mauritius: according to a survey conducted by the Ministry of Health, up to 20% of the population of Mauritius – one of every five Mauritians – is affected by psychological and psychiatric disorders. Despite efforts of the Government to decentralize mental health services by including them in regional hospitals over the last few decades, advocacy efforts by NGOs to augment psychological services, or even themselves providing psychological support in their relevant sectors and for specific target populations, such services are not easily and widely accessible to the general population.
Furthermore, within an unstable economic environment and a changing Corporate Social Responsibility landscape, the need to streamline NGO activities is becoming increasingly relevant. OpenMind offers all psychological services under one roof, and can cater to the target populations of various social services, governmental and non-governmental actors. As such, it becomes a valuable and cost-effective partner to respond to the needs of vulnerable populations, using a holistic approach focused on individual needs.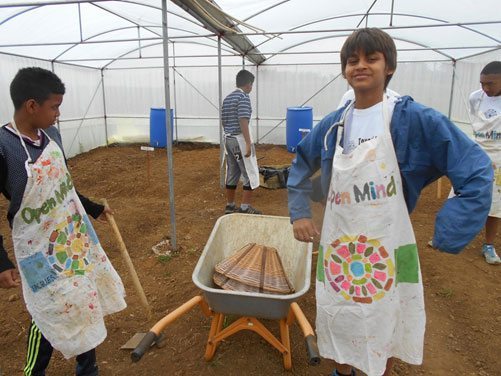 3. OVERALL OBJECTIVE
The overall objective of the project is to promote the wellbeing of persons living with psychological disorders, develop their skills and facilitate their social inclusion through ecotherapy and hortitherapy and the development of the OpenMind Centre.
4. SPECIFIC OBJECTIVES
Specific Objective 1
To complete the installation OpenMind Centre at Verdun with all necessary equipment and its adequate maintenance to provide for the ecotherapy and hortitherapy activities
Specific Objective 2
To alleviate symptoms of distress and help improve psychological state; to enable gains in self-esteem, confidence and autonomy amongst beneficiaries by providing eco-therapy activities & support their social integration
Specific Objective 3
To provide all necessary facilities for the achievement of the above
5. BENEFICIARIES, NEEDS AND IMPACT
5.1 Beneficiaries
Number of beneficiaries: 54 – 28 children and 26 adults suffering from psychological disorders
Direct beneficiaries: The Beneficiaries of OpenMind are from a vulnerable group of persons suffering from psychological disorders and disabilities. Beneficiaries include those particularly from vulnerable families or socially distressed environment who suffer from disabling psychological disorders and who are unable to secure an independent living and who need therapeutic support. Children registered directly for OpenMind's program of activities and are suffering from:
Psychological disorders & trauma
Behavioral disorders
Emotional Imbalance
Children with psychological distress and trauma or emotional imbalance due to their fragmented family and social background for example divorce, domestic violence.
Children who have been victims from verbal, physical & sexual abuse leading to trauma.
Children who show signs of psychological and behavioral distress due to high level of competition of the present education system
Slow learners or those who cannot cope with the highly academic system and are forced to drop out thus being impacted psychologically.
Indirect beneficiaries: the indirect beneficiaries are the parents or guardians of those persons and their immediate entourage. It is not immediately appreciated that parents and guardians in this situation have a traumatic suffering in having to cope with the day-to-day care of the distressed person himself. They can provide little support if they themselves are not properly supported. The support provided alleviates the burden of care by the parents and other caregivers.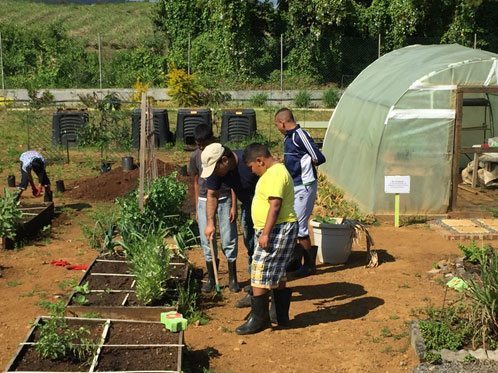 5.2 Needs of Target Group
Social Exclusion and lack of social relationships: People living with psychological disorders are stigmatized and marginalized in all spheres of life including at home. The Programme of OpenMind aims to develop their self-confidence and facilitate their social inclusion. It supports beneficiaries to generate the motivation for developing social skills and establishing social relationships.
Loss of connection with mainstream social, economic and educational activities: Persons suffering from depressions and other psychological disorders are very often forced to give up gainful employment. Children living with psychological disorders have difficulties succeeding in mainstream education which then becomes a life challenge. The Programme of OpenMind helps beneficiaries to rekindle the necessary confidence to reconnect with mainstream social, economic and educational life.
People living with psychological disorders suffer high rates of stigmatization, which prevent them from participating in family and social life: Even at home, people living with psychological disorders often lack support and encouragement and face stigma. Some relatives lack proper understanding of mental health issues, reject their unfortunate parent, or face financial constraints to take care of them. Hence, they are often left alone at home. This lack of socialization accentuates their ill mental state by increasing paranoia, anxiety, dependency, antisocial behaviours and feelings of insecurity.
Lack of health causing degeneration of psychological conditions: People living with psychological disorders often have unhealthy lifestyles: lack of physical activities, weight issues linked to unbalanced food, lack of outdoor activities. The Programme helps to practice a healthy balanced lifestyle and improving by so doing their mental health.
Psychological problems in childhood are serious issues that require specific frameworks: Psychological assessment & follow-up, art therapy and life skills programmes provide a unique opportunity for children to cope with their emotional and behavioral problems, allowing to grow up just like any other children.
5.3 Impact on Beneficiaries
The ecotherapy programme offered by OpenMind through the development of the OpenMind Centre at Verdun and the provision of tailor-cut psychological services for beneficiaries will achieve the following:
Improvement of beneficiaries' psychological state and the alleviation of their distress through ecotherapy activities, namely improvements in the following areas:

Reduction of symptoms, namely depression, anxiety, stress and tension
Increase in self-confidence, self-esteem
Increase in autonomy and self-reliance
Increase in coping skills

Improvement in beneficiaries' physical state:

Development of strength, mobility, energy and coordination

Improvement in social skills:

Development of social skills, increase in social interaction and coping skills
Development of life skills and autonomy

Improvement in cognitive skills:

Rewarding of nurturing behaviour and stimulation of the senses
Improvements in concentration, problem-solving skills, memory
Development of positive thinking

Improvement in employability skills:

Whenever possible, the skills most used for potential employment are developed and practiced through horticultural development (gardening skills; planning skills; and budgeting)
6. EXPECTED RESULTS
The wellbeing of persons living with psychological disorders, develop their skills and facilitate their social inclusion.
The OpenMind Centre venue for workshops is adequately set up to welcome both adult and children beneficiaries
An organic vegetable garden with all necessary equipment and materials is set up following permaculture principles and caters to the hortitherapy programme as per the proposed design
Organic vegetable garden is maintained and process for eco-certification is ongoing
Garden maintenance services are provided to ensure the upkeep and maintenance of the grounds and vegetable plots
Transport facilities and services are provided to ensure the proper safety and care of beneficiaries and their attendance
Hortitherapy Programme developed and implemented
70 hortitherapy workshops
6 outings carried out per year
Follow-up by Clinical Psychologists
Follow-up by Health and Care Officers
Therapeutic plan developed for each beneficiary
Care and recovery of beneficiaries leading to:

Increased self-esteem and self-confidence
Improved levels of autonomy and self-reliance
Improved social skills and behavior leading to social inclusion
Improved cognitive skills such as comprehension and concentration
Improved mood and mental state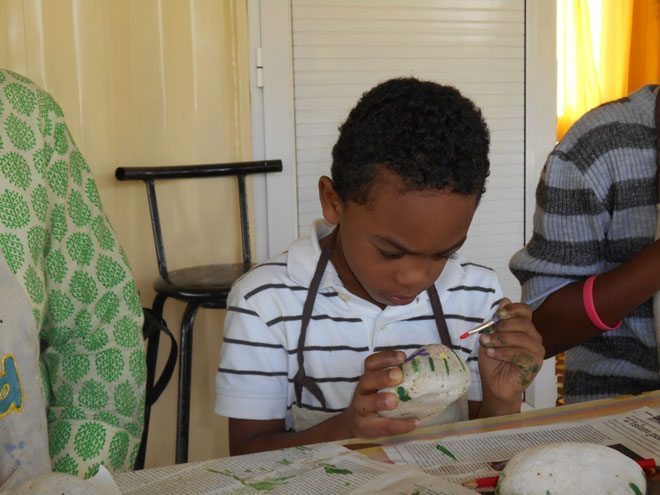 MAIN ACTIVITIES OF THE PROJECT
1. To complete the installation of OpenMind Centre with all necessary equipments and materials and technical support services to provide for the ecotherapy and hortitherapy activities
1.1 To set up an organic vegetable garden using permaculture principles and certify the products
The activity consists in expanding the development of the vegetable, as the first phase of the project has been completed. This aspect of the programme benefits from the advice, guidance and management of the services of a Centre Manager. The expansion of the vegetable garden includes a greenhouse, which will require equipment and materials, as well as a drip irrigation system. Such equipment will yield better results for organic gardening, which fares better under controlled conditions.
1.2 To set up a therapeutic garden for rest and recreation amongst beneficiaries
In addition to vegetable garden, the project aims to provide a restful and peaceful outdoor area for beneficiaries in order to alleviate their stresses and burdens. Persons suffering from psychological disorders may not always be able to put in long hours of efforts in gardening; such an approach would counter the beneficial effects of horticulture. A therapeutic garden for rest and recreation, composed of benches, tables and decorative plants, flowers and trees is being developed. This area complements the vegetable garden, which requires more intense physical activity.
1.3 To maintain the vegetable gardens
While the beneficiaries are present at Verdun , they engage in hortitherapy three to four hours a day at a time. Labor/maintenance services are therefore needed to ensure upkeep of the grounds and maintenance of the vegetable plots in between the time the beneficiaries
2. To alleviate symptoms of distress and help improve mood and mental state; to enable gains in self-esteem, confidence and autonomy amongst beneficiaries
2.1 To select beneficiaries for participation in ecotherapy and hortitherapy workshops and provide psychological assessments and individual follow-up in relation to the benefits of hortitherapy
When beneficiaries enter OpenMind's Day Care Service or Saturday's Children Programme, they consult with the neuropsychologist or a clinical psychologist associated with OpenMind. Following this, an individualized care plan is developed in collaboration with the therapeutic team consisting of the Psychologists and Health and Care Officers. Specific objectives are set for each individual and the objectives are assessed at the end of each semester. Thus, beneficiaries who would most benefit from the hortitherapy programme are selected at the beginning of each semester and are in direct link with the objectives set out in their individualized care plan.
The success of the hortitherapy workshops are contingent upon the support and supervision of the psychologists, which provide regular one on one counselling services and assessments. The psychologists are responsible for monitoring the therapeutic impact of horticulture on each beneficiary and may make adjustments along the course of the care plan if need be.
2.2 To provide health and care services in the delivery of hortitherapy activities
Similarly to the above activity, the success of hortitherapy workshops also depends on the constant input, care and follow-up of Health and Care Officers. They are responsible for the day-to-day reports and are a key link between beneficiaries and the psychologists, alerting them if there is anything to be considered and addressed. They also provide links with the parents and caregivers and provide valuable input in weekly, monthly and quarterly assessments.
2.3 To deliver hortitherapy services
A horticultural therapist is designated to lead workshops on hortitherapy. The workshops are built around the healthful benefits of horticulture: its cognitive, psychological and physical benefits including amongst others improved concentration and attention; memory stimulation; improved self – esteem, sense of wellbeing, personal control, self-worth, sense of stability; improvement of fine motor skills.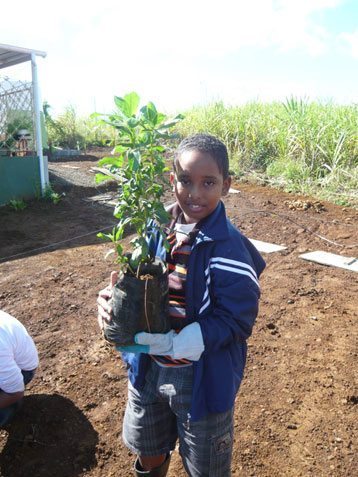 8. MANAGEMENT ARRANGEMENTS
OpenMind as an association registered under the Registration of Associations Act is required to comply with the provisions of the Act and to submit itself to the supervision of the Registrar of Associations. OpenMind is CSR accredited under "the Socio-Economic Development – Code 200 – Disabilities – Code 203".
It has a Managing Committee elected every year on a rotation basis and consisting of 7 members. It meets every month but in any case is required to meet at least once every quarter. The Centre is under the responsibility of a Centre Manager cum Health & Care Officer for the day-to-day activities and of a Project Coordinator who is responsible for the implementation of the Programmes under the overall supervision of the Managing Committee. The Centre has a qualified neuropsychologist and two Clinical Psychologists to coordinate the therapeutic services of the Centre.
OpenMind is acutely conscious of its responsibility and duty of accountability in collecting funds from CSR Funds of enterprises and has put in place a structure of checks and balances and of monitoring with to a view to ensuring that the Projects are being properly implemented with economy and in a result-oriented outlook with the services of a "Project Coordinator"
Each key function within the organization of Centre reports through the Director to the Managing Committee on a monthly basis. The Managing Committee can also assist in providing guidance and make recommendations to the Manager on the implementation of projects.
9. SUSTAINABILITY
The programmes underlying the project are those that go to the core of the activities of OpenMind. It is serviced by the professionals in the medical field, therapists and carers and trainers at a heavily discounted rate in support of the cause led by the organization. OpenMind also has a network of members and supporters that provide assistance through membership fees and donations. The fund raising activities run by the organization also contribute to the budget. Fundraising activities derived from the project include:
Sale of vegetables produced on site, on the process towards eco-certification
Sale of pickles and jams, also produced on site, derived from the products of agriculture
Sale of eco- products and handmade crafts produced by Beneficiaries of OpenMind